All the paddles we sell are custom made to help you make your own unique adventure.
For this reason delivery times can be several weeks. Contact us for details of your individual requirements.
---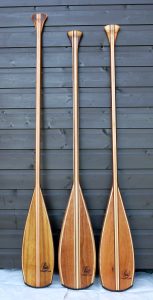 Valkyrie Huscarl

the all-rounder
Named after the Norse household warriors, this paddle is designed for every day general purpose paddling. It is a beautiful all round paddle to use with the full range of strokes. The blade size is generous giving it the potential for bursts of power when needed.
The shape is based on a modified beavertail.
£155.00
---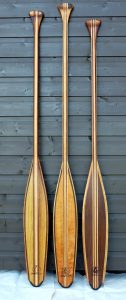 Valkyrie Viking

the touring paddle
Viking means to go out travelling; the Norse sagas talk of men going 'a viking' and that is the niche of this paddle. Its long curved blade gives great purchase on the water providing excellent control in open water, where wind can be an issue. The ability to vary the depth of the stroke gives control over the level of work required and, like all touring blades, the blade length dictates the need for a slower and more relaxed stroke rhythm. The shape is based on a modified ottertail
£155.00
---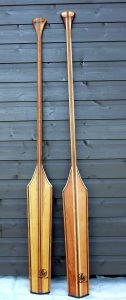 Valkyrie Thane

a traditional voyageur paddle
Named after the Norse Lordlings, the Thane is a beautiful paddle for touring. Like the Viking its shape is perfect for deep water paddling where the blade length provides excellent grip in the water and allows for a long slow blade rhythm to develop. With a slightly larger blade surface area than the Viking, the Thane has the potential for more power to be generated with each stroke. This paddle is based on a long bladed Voyageur.
£155.00